This birthday card for my sister, a children's librarian, was inspired by several challenges. The first is, appropriately, The Library Challenge featuring children's book, "The Cat in the Hat" by Dr. Seuss. You can be inspired by the cover, the title, or the story.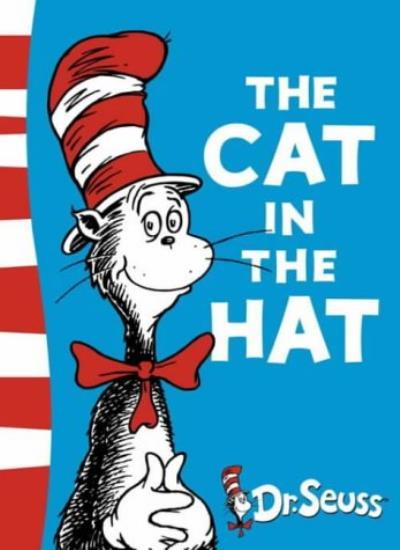 I chose a four year old stamp by Inkadinkado featuring a tabby cat because I have always thought of the Cat in the Hat as being a tabby. The background stamp by Impression Obsession which I think is about three years old could be my sister's house where bookshelves line many of the walls. The colors were inspired by this photo from the If you Give a Crafter a Cookie Challenge. I love that the name is a riff off of another children's book, "If You Give a Mouse a Cookie."
I started with the smooth side of a sheet of Tim Holtz watercolor paper. Working with Worn Lipstick, Wild Honey, and Broken China Distress Inks, and several different sized acrylic blocks, I smooshed ink onto a block, spritzed it with water and smooshed it onto the paper, leaving it there for a couple minutes to let the ink absorb into the paper. This gives more intense color. Each time I changed colors and blocks I made sure to overlap so the colors would blend. Needless to say, Distress Oxide inks will not work becuase they are opaque and you would not get the rainbow effect. Once the background was dry, I stamped the books using a stamp positioning tool, so I could double stamp because the paper still has some texture and I wanted to get a good image. I watercolored the cat using Zig Clean Color Real Brush Markers trying to duplicate the colors in the background. I popped him up with foam tape. The sentiment was inside to avoid covering anymore of the background.
With the emphasis these days on photopolymer stamps it is easy to forget how clean and crisp an image rubber stamps give you. The Retro Rubber Challenge which requires you to us a rubber stamp that is least a year old is new to me, and I think I will keep playing it to inspire me to use more of my rubber stamps.
Oh, why did I title this "Sherlock in the Library?" My other sister has a ginger tabby named Sherlock. Thank you for stopping by! Until next time, Hansi